Me and Nick, we always had the idea to mix our projects, until it happened. In the national holidays of Chile, our country, Nick was going to travel to Valdivia to see his family taking advantage of their days off, so he talked with me to schedule a day for taking pictures together.
A few days from the photoshoot, we were looking for models for the occasion but we didn't find anyone who would be 100% dedicated to this project. Nick found a model, Yesenia, and she traveled from another region to help us with this idea.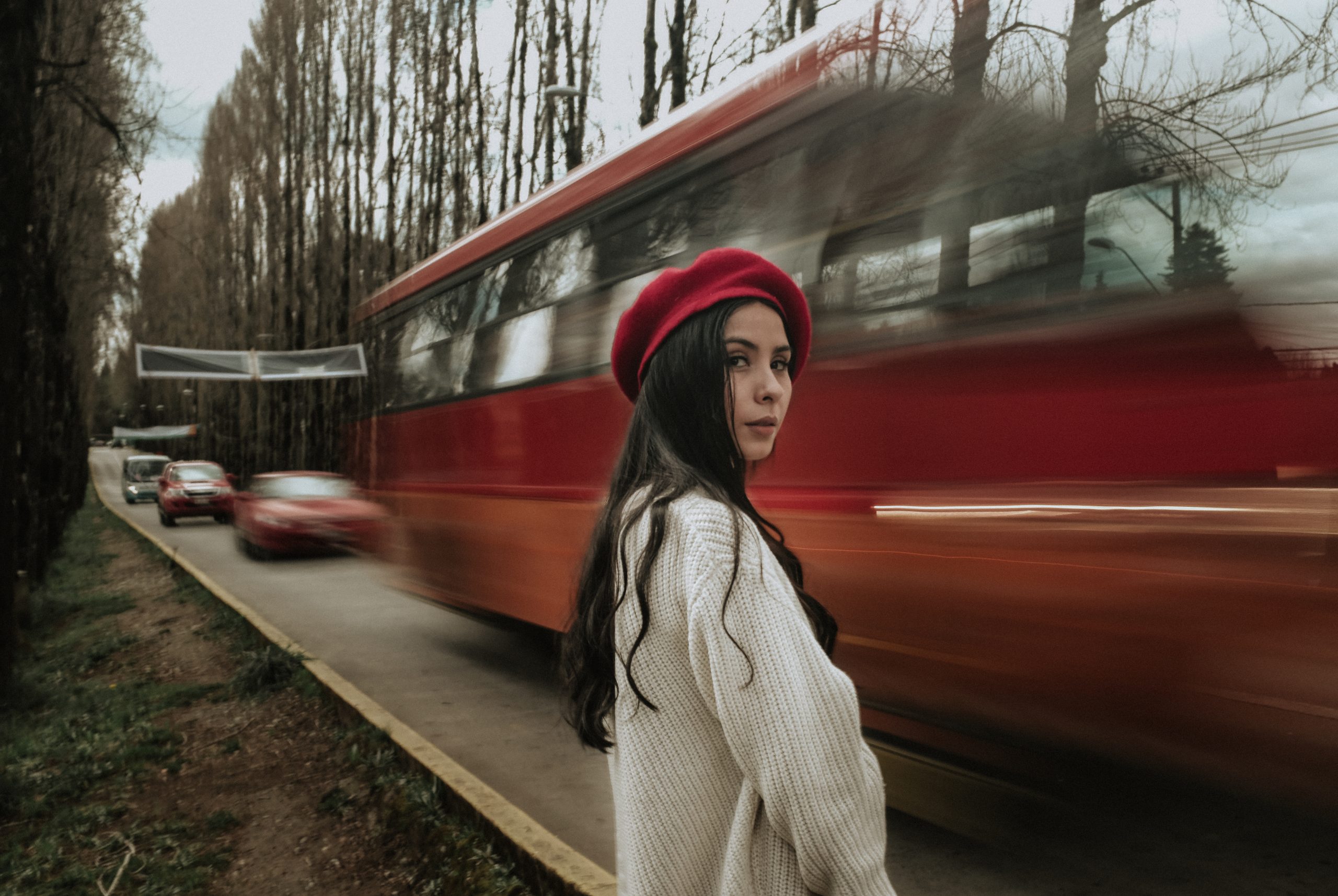 On September 17, Nick traveled from the city where he was to Valdivia, and Yesenia from Puerto Montt. First I met Nick in the bus station, and although we have never met in person before, we talked a lot. We talked about the anxiety and the nervousness of carrying out a project in such a short time (we would do it in just a couple of hours). We began to worry since Yesenia did not arrive and her bus was late. When we got down to the first floor we didn't find her but then we saw a very flashing mustard coat and we knew it was her.
Being the whole team together we walked to our first location, the Valdivia market, a perfect place because of the number of people and colors. First, we began to test if the whole idea that we had would work in the market. And after several attempts everything started to flow as we wanted, the speeds were different since some people move slower than others and it's very complex to find the exact moment to shoot. There has to be a perfect synchronization between the model and the photographer, for our luck Yesenia is an amazing model and we communicated perfectly during the session.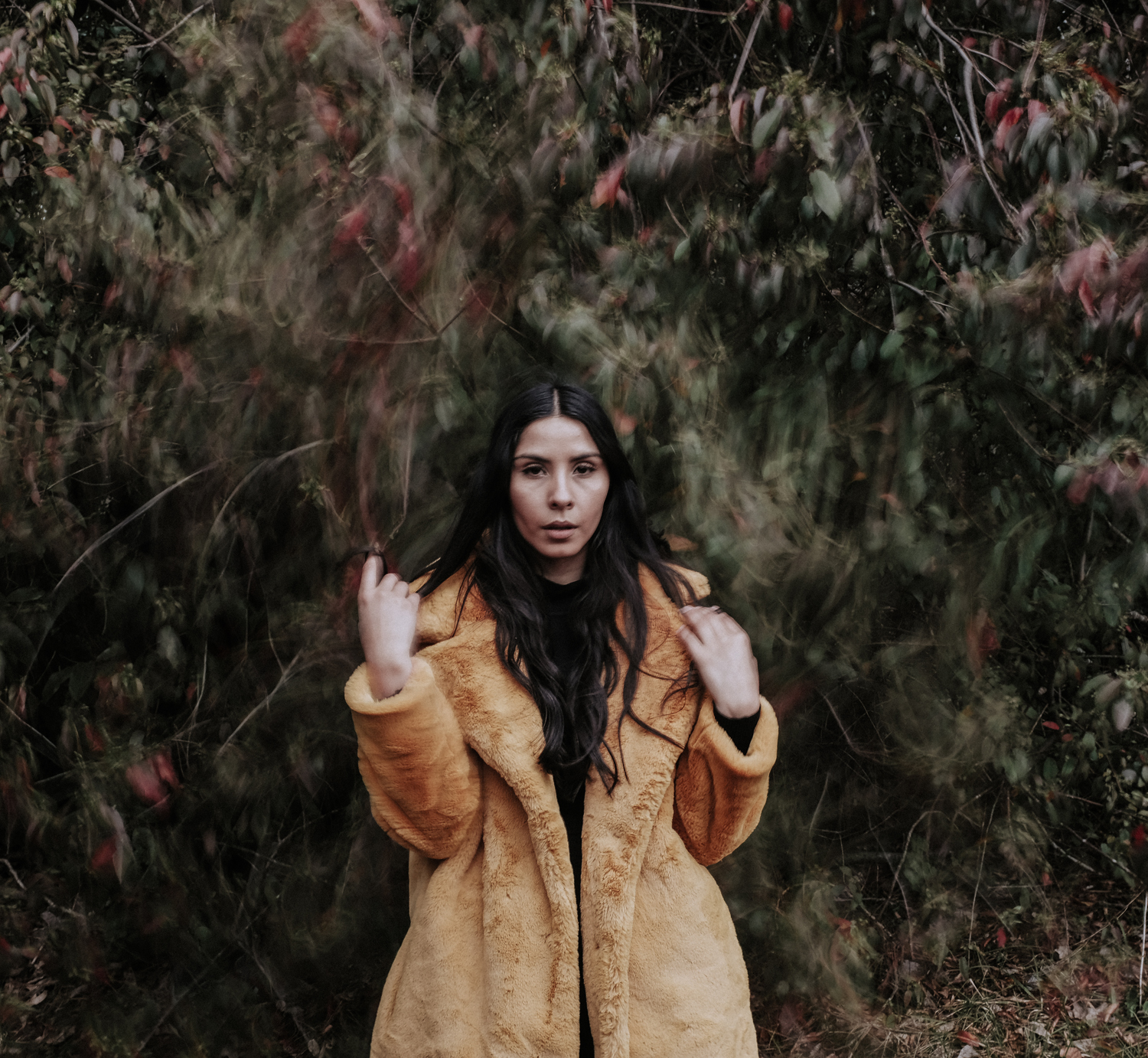 Later, we crossed the bridge to Isla Teja where we did the most beautiful photos in our opinion. My style of shooting the movement of people with buses and cars on the bridge, with Nick's amazing colors, mixing our projects.
Then we thought about creating the characteristic movement effect of my work, but this time with nature. So we went to the Botanical Garden of Austral University and WOW! We were delighted with everything. The day and the weather were perfect and with everything in favor, the joy of Yesenia, good locations and the desire to work together, we achieved a very nice job as a first experience.
At the end of it all, we went to have a delicious Valdivia beer to celebrate the beauty that was that day.
The idea of this project was to mix the technique of Eduardo Asenjo (daylight long exposures) and the portraits of Nick Salazar to generate movement in a flat photo such as portraits.
Nick has an X-T2 with the 56mm f1.2 and I have an X100F with a variable ND filter (Fotga). It's the most common and cheap but it suits me since it's variable. On the locations under strong sunlight, I have to use both filters, the one incorporated in the X100F and the variable ND filter.
I really liked the result since at that time of day it was almost impossible for me to use slower speeds without ND filters. This filter is circular 49mm and is screwed directly to the lens.As for the tripod, we used a Benro FIF19CIB0.
Nick's camera settings were: F16, 1s, ISO 200 and manual focus. In my case F9-F8, 0.3s~0.6s, ISO 200, manual focus and the in-camera ND filter activated.
We both shot with the Classic Chrome film simulation and Nick was in charge of editing the photos in Lightroom with his personal skin preset.
The name is inspired by the song "Lotus Flower" by Radiohead, one of Our favorite bands.
The photos were taken in Valdivia – Isla Teja.
Photographs: @eduardo.asenjo.matus and @nicksalazarfoto
Model: @yeseniavidal
Edition: @nicksalazarfoto
Nick Salazar Valenzuela, Chilean wedding and portrait photographer, music teacher and user of Fujifilm XT2 + 56mm f1.2
https://nicksalazarfoto.cl/
Eduardo Asenjo Matus, Chilean Street photographer, former student of Architecture and Graphic Design, Fujifilm Chile and Tripodes.cl ambassador.
Camera: Fujifilm x100F + ND filter
www.eduardoasenjomatus.com/
I hope you like it, a big hug from Chile,
Eduardo Asenjo Matus