From race cars to ballerinas
Hello, Fuji X Passion Readers from Pasadena, California! My name is Paul Snider. I recently retired from a 40-year career working on set in dramatic series television on such shows as "NCIS" and now have more time to devote to my photography along with a new hobby, woodworking!
My photography story started like most, I'm sure. My parents gave me a small Kodak camera for a family vacation, hoping it would keep me busy, and I fell in love with the process. After shooting a roll of pictures, I couldn't wait to get home, take the film to the local drug store and bring home the photos.
In high school, I took a photography class that had one of those instructors that fired my passion for photography. I turned part of our basement into a darkroom, spending hours trying to improve my printing. At the same time, I became mad about motor racing, badgering my father for rides out to the racetrack or my buddy's older brother to take us to the drag strip, always with camera in hand.
I started with Canon equipment, slowly adding lenses, especially longer zooms, as money allowed. Then I made the switch to a Minolta SRT101 going through the same process; adding lenses, winders, flashes, etc.
With my driver's license, I could get to racetracks up and down California. I was even able to travel to the famous Watkins Glen race track in New York state to photograph a Can-Am car for a Swiss driver who wanted photographs to use for a sponsorship hunt. I thought my photography career was about to take off. Unfortunately, he totaled the race car at the next race, suddenly my photos were not needed.
In addition to motor racing, I was traveling around the country during summer breaks from college with camera in hand recording the adventures on my favorite Ektachrome.
After college, I started working at a major television production company and was able to use their name to get photographers passes to major events such as Formula One and Can-Am. This allowed me to go anywhere on track to shoot which really helped up my game as a photographer. I shot Ektachrome and Tri-X for their speed.
As work and family obligations started taking more time, I was photographing less when digital cameras started appearing. Like a lot of photographers, I stayed with film as long as I could but then jumped into the digital world. I learned the Canon Rebel on a family road trip while my wife was driving, the kids otherwise occupied.
Being able to shoot as much as I wanted, learning from my mistakes without the expense of prints, I was hooked. The film equipment stayed in the bag until it was sold to a family whose high school student was about to embark on the same journey I had taken.
I progressed through several Canon cameras ending with the 30D with an assortment of lenses. I was shooting races again, adding bicycling racing (as I had become a cyclist along the way) to my portfolio. I was also shooting behind the scenes photos of the TV shows I was working on.
It was at this point that Fujifilm came into my world. A close friend on the show had a Fujifilm camera. He was raving about its retro look and great images, so I asked to borrow it. I fell in love. Finally, a camera that saw the world like I did! And so I started my Fujifilm journey with the X-10 then moved to the X-20, finally the X-30, carrying it all through Spain and on the set.
When the X-T1 came out, I added that, slowly adding lenses. The X-T2 came next, and now that's my second body, with my main body being a recently acquired X-T3. I have three zooms, the 10-24mm, 16-55mm and the 50-140mm. In primes, I have the 23mm F2, 35mm F2, 56mm F1.2, 90mm F2. I also carry the 2x converter, especially for races.
Keeping the X-T2 allows me to carry two bodies, with vertical battery grips, with wide and long zooms at the same time. The silent shutters also made it possible to shoot more on the television sets where silence is paramount when rehearsing or filming, allowing me to keep my hand in between races or the odd job shooting for friends.
I realized that to advance my work, I should look into classes or workshops, so when Fujifilm announced that their second annual Fujifilm Festival would take place out here in Venice, California, with outstanding Fujifilm X Photographers, I signed up. Two days of nothing but photography was just what I needed! On the first day, there were intensive half-day classes, while on the second day, there were shorter classes as well as a portfolio review.
I was able to take a class on street photography from Xyza Cruz Bacani, a 2015 Magnum Foundation Human Rights Fellow, a travel class from Elia Locardi that included watching him go through his Lightroom processing steps and an eyeopening portfolio review from Carolyn Cole, a 2004 Pulitzer Prize winner for the Los Angeles Times. They also had testing/cleaning on-site, a loaner program and a printer to print your favorites.
My favorite was "Capturing the Essence of Movement" with Omar Z. Robles. He is known for shooting dancers against the streets of New York, and while our class was not on the street, it was in a rustic open space with plenty of natural light.
After a discussion on what we would be trying to achieve, the moment we should click the shutter and seeing some of his work, we were turned loose to shoot Andie Bartol and Stephanie Kim, two dancers he has worked with. Right away, we were scolded by Omar as everyone used their motor drives to try and stop the action.
We were told to use single shot, working to time the peak of the action. There is a point when the car, bicycle or dancer is at its peak of motion, and you click the shutter. Finding that moment takes practice. Too early, and the movement is not finished. Too late, and you've missed that peak moment.
The dancers did Grand Jetés along with other Ballet poses while we worked perfecting our timing with Omar there to give a critique of our images. I used my X-T2 with the XF16-55mm and XF50-140mm zooms set to f5.6, with a shutter speed of 1/1250, letting the camera set the ISO. Omar moved the dancers around in our space, changing the natural light and giving them different movements.
Changing the camera angle and looking for quiet moments between setups filled out the day. I shot jpegs as Fujifilm produces great jpegs. I do very little processing on my Mac laptop in Photos converting most of the images to black and white. This removes background and color distractions, so the viewer will be drawn to the lines of the dancers. I especially like high contrast images with deep black and white whites.
My Fujifilm equipment was perfect for the workshop. It's intuitive, light, focuses quickly and produces fabulous images. I found the workshop extremely helpful. While online masterclasses are great for "book" learning, being physically on the spot with other photographers putting learning into practice and being critiqued by a Fujifilm X Photographer was unbeatable. I hope we will be able to get back to in-person workshops in the not too distant future, and hopefully, it will be at another Fujifilm Festival!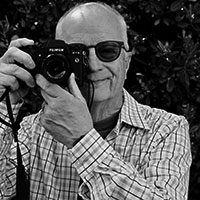 "Hello, Fuji X Passion Readers from Pasadena, California! My name is Paul Snider. I recently retired from a 40-year career working on set in dramatic series television on such shows as "NCIS" and now have more time to devote to my photography along with a new hobby, woodworking!"